You may recall over the past two-ish years where I wrote about my job hunting woes as a new university grad in a series of somewhat, I'd say, morose posts on this blog.
I figured, it's been a year and a bit and I should probably write an update about that situation. Otherwise, people stumbling upon this site may come across those links and assume I'm still looking for a job. Which, I suppose, wouldn't be a complete surprise considering the economic climate nowadays.
So after I wrote Job Hunting Woes Part II in August 2007, it would be a few months after that that I actually got my first job. My new tactic was to think about my strongest assets and my interests/passions and go full-force on attaining a job around that. Hmm, I liked writing. I liked anything related to the web, from social media to web development and pretty much everything in-between. I also thought, advertising seems cool too and I like anything related to the media industry. From that, I started looking up a list of all the advertising agencies in Toronto and looking for any position in the Interactive field. It took awhile, and by awhile, I mean I went to at least 3 job interviews at some big name agencies. Even one for a position I knew absolutely nothing about (something related to broadcast trafficking, if I recall correctly).
Then in November 2007, I finally landed a job at a decent sized ad agency as an Interactive Project Coordinator. I learned a great deal from my colleagues and the experience was definitely beneficial for my career goals. I got a chance to put my knowledge of social media and blogging to use, being able to strategize and brainstorm ideas on ways to create a two-way conversation and enhance interactivity with the online audience. I even got a chance to copy edit, even though I am by no means qualified to be a copywriter, and was actually praised by a Creative Director for some writing I did and had showcased on my résumé website. It made me feel good. It made me actually forget all those months of feeling like my skills just weren't adequate as I was constantly being turned down for jobs I felt qualified for. The only "tiff" was that I was bright-eyed and naive about some things, certainly about playing office politics, which is never good — especially in this industry. And if there's one important thing I've learned is that knowing how to play office politics is about as important as being a stellar employee.
I was there almost a year and then shit hit the fan. Let me just tell you: if you are ever led into a meeting room and you see an HR person in that room, get ready to put on your brave face. It's not going to be good news.
Long story short, I was let go. (Strangely enough, my initial reaction to everything happening was to say C'est La Vie, which then caused that B*Witched song to start playing in my head.) Apparently, or as was told to me, they needed to hire an experienced project manager (and I was a mere coordinator with experience equating to the total amount of time I had been working there) for some large projects coming down the line and they needed to merge salaries of sorts. However, I did not know the latter of the reason until later on, when I had to get references for my new job, but I can tell you that at the time, I was wracked with the thought that it was because they thought I was incompetent, plain and simple. And that notion really depressed me because I had always tried to do my best with any challenge I've been presented so to have all this happen, it was a punch to the ego. Rick McGinnis' (a former writer for the free daily Toronto newspaper, Metro, who was recently laid off) blog posts about losing his job — particularly Laid Off and Fear — does a good job of summing up what I had felt at the time. Except, this being my first "real" job, throw in an existentialist crisis of sorts that questioned everything I had thought of myself as a employee and that's basically how it felt for me.
Luckily for me, though, I guess, I never really considered staying at that particular job long-term as I had made the mistake of accepting the first salary offer given to me, which was just above poverty level. Needless to say, had I stayed around, even if I received a 10% raise, which is a significant raise, I would still be hovering over that same figure. After going through the stages of grieving, and I can't lie, I was stuck on anger for a good amount of time, I finally reached acceptance. And with that, I saw this as a great opportunity. Sure, it was embarrassing having to say I was currently unemployed and I only shared this information with a select few, I just knew that being depressed about the situation wouldn't help. So I started the job hunt yet again… while giving me a chance to get reacquainted with my BFF Oprah again.
This time around, because I had some related experience, the job hunting process was a lot more successful. I received numerous calls for interviews for jobs actually related to my field (Interactive). Things didn't seem so bleak anymore.
Soon after, I landed a new job at Canada's largest media conglomerate. I make a lot better pay and things are good, albeit the company has been in the news lately about financial issues that have been accentuated by the economic downturn. Regardless, losing a job is something a lot of people are going to have to experience in their lifetime and now that I've gone through it, I can't say it was a GREAT experience (obviously) but I suppose it's a good way of giving you a helpful kick in the butt, letting you reassess your career ambitions/employment situation. Or maybe I'm just trying to look for some feel-good lesson about a bad situation. Whatever.
Well, this is the culmination of all those rants about job hunting and you shall take from it what you wish.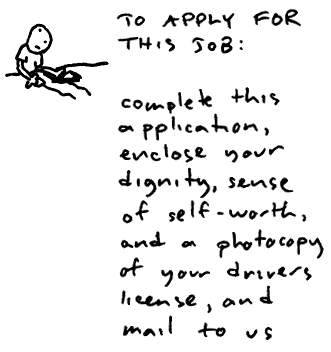 Cartoon courtesy of Toothpaste for Dinner
First image courtesy of Nichole